A Team of Creative Artists
The production of the not-for-profit 28 Days & 7 minutes Audio-play involves more than 70 multi-skilled Artists – Voice Actors, Musicians, Composers, Sound Designers, Engineers, Foley Artists, Scriptwriters, Directors and Producers.
Help our Team
The Arts Industry and the Artists themselves have taken a huge hit from the Covid pandemic and the various lockdowns. Like many arts events, the Ryko Project is self-funded. However, we want to pay all the Artists involved in the Ryko Project a fair remuneration … to help them financially as well as encourage their creativity.
To this end, you may be able to help support the Team by making a donation.
Also, we ask for you to please pass this request on to your community – your family, your wealthy aunt and uncle, your philanthropist cousin; in fact, anyone who you feel might like to help these people. The Artists will be most grateful. Thank you.
Note that all financial contributions will be handled and distributed by Briagolong Community House Inc. a Victorian regional based, not-for-profit community organisation who have kindly agreed to help.
The Artists
The Voices
The Voices are professional and semi-professional Actors, some of whom are from regional Victoria. Chinese and Indigenous voice actors have been engaged from the Northern Territory to provide authenticity and a sense of ownership of the cultural narrative. The Voices include Dougie Baldwin, Maximillian Johnson, Paul Robertson, Irene Chen, Jasper Bagg, Ian Ferrington, Daniel Chow (Chung Wah Museum, Darwin), Anna Roberts, Maratja Dharmarrandji, Don Christophersen (Library & Archives, NT), Gavin Prior plus others.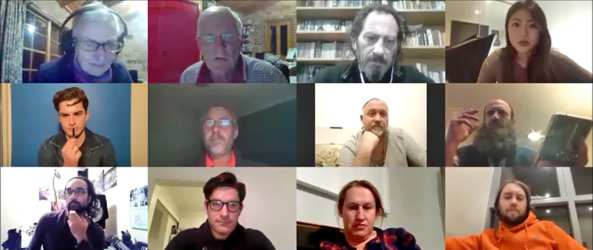 The Musicians
The Musicians will deliver a palette of sounds, songs and music (including the use of traditional instruments) to reflect the Audio-play's multi-cultural nature. The music will complement its characters, the various themes (such as storytelling) as well as the physical and historical setting.  Some new arrangements plus a commissioned work will provide an exciting depth to the Soundscape.  Creatives include David Williams of the Gippsland Symphony Orchestra, Composer Irine Vela, Sale City Brass Band, plus a number of musicians playing indigenous and traditional Chinese instruments.
Other Creatives
Other creatives are equally important in helping to deliver an amazing finished product.  Such people are often 'unsung' contributors. This group of Creatives include a Sound Designer, Barrie Clissold (Studio Engineer), Chris Cooper (Web Designer), Robert Lingham (Animator), Editor, Publicist plus others.
The Producers & Scriptwriters
Michèle Adler & Rod McMillan are the Producers of The Ryko Project as well as the Scriptwriters. They are also Directors of Adland.
The Producers introduce themselves (0.32 mins).