A Team of Creative Artists
The production of Ryko has involved a large number of multi-skilled Artists – Voice Actors (26), Musicians (20) plus 2 Brass Bands (30+), Composers, Sound Designers, Recordists, Engineers, Foley Artists, Scriptwriters, Directors and Producers.
The Voice Artists and Musicians have been recruited from Melbourne, Gippsland (regional Victoria), Alice Springs and Darwin (NT), Beijing and Shanghai (China). Together they deliver a palette of sounds (including the use of traditional instruments) to reflect the Audio-drama's multi-cultural nature.
Technicians and Assistants are equally important in helping deliver an amazing finished product.  Such people are often 'unsung' contributors.
Like many Arts events, the Audio-drama has been self-funded. With contributions from Donors, all the Artists have been remunerated … to help them financially as well as encourage their creativity. Thank you to all for your contributions – be it financial and/or your time – your support is much appreciated.
Credits and Acknowledgements
Script-writers:                               Rod McMillan & Michèle Adler
Producer, Director, Editor:        Rod McMillan
Voice Director:                              Jasper Bagg
Composer:                                       Irine Vela
Recording:                                Rod McMillan, Patrick McGown, Wombat Road Studios
Sound engineer:                           Barrie Clissold
Narrator:                                           Michèle Adler
Mentors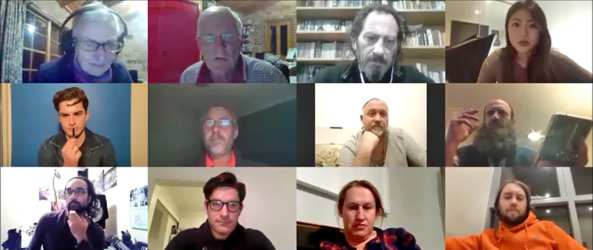 The Producers & Scriptwriters
Michèle Adler & Rod McMillan are the Producers of The Ryko Project as well as the Scriptwriters. They are also Directors of Adland.
The Producers introduce themselves (0.32 mins).
Voice Actors – Character (in order of appearance):
Episode 1
James Adler – Commonwealth Intelligence Officer
Maximillian Johnson – John Hoskins
Margie McGown – Woman
Dougie Baldwin – Ted Ryko
Paul Robertson – Freddie Thompson
Episode 2
Tony Dawkins – Local Man #1
Robert Leggett – Local Man #2
Don Christofersen – Charlie
Episode 3
Irene Chen – Lily Moo
Robert Leggett – Man #1
Tony Dawkins – Man #2
Episode 5
Daniel Chow – Sin Sang
Karli Dubaniewicz – Tourist
Episode 6
Robert Leggett – Henry Carey
Mal Spottiswood – Dr John Gilruth
Anna Roberts – Mrs (Jane) Gilruth
Gavin Prior – Rev James Watson
Helen Waddington – Amy Caufield
Jasper Bagg – Polter
Episode 7
Ian Ferrington – Jack Fahey
Jasper Bagg – Announcer #1
Nela Trifkovic – Rachael
Rod McMillan – Announcer #2
Mal Spottiswood – Joe Cooper
Episode 8
Mal Spottiswood – C'ptn Mugg
Episode 9
Paul Robertson – Man Customer
Episode 10
Jasper Bagg – Don Theatre owner
Helen Waddington – Audience #1
Jasper Bagg – Audience #2
James Adler – Drunk
Episode 11
Paul Robertson – Large Man
James Adler – Commonwealth Intelligence Officer #2
Episode 12
Daniel Chow – Chinese Man #1
Daniel Chow – Chinese Man #2
Daniel Chow – Ah Fook
Episode 13
Rod McMillan – Mr Evans
Johnathan Leo-Hayes – Stockman
Sebastian Webb – Tracker
Episode 14
Kieran Martin – Dick
Felicity Hayes – Kitty
Episode 15
Rev Alan Maratja Dhamarandji – Naindulka
Nevaeh McMillan – Gertrude
Musicians – (Instrument) Musical piece (in order of appearance):
Episode 1
Irine Vela – Ryko's Theme (Vela)

Episode 2
Cane Major – (Dizi) D minor bamboo flute (Cane Major)

Episode 3
Wuxia Bai – (Guqin) Upward to the Moon (Dingding Sa)

Episode 4
Rui Sun – (Guqin) Upward to the Moon (Dingding Sa)
Episode 5
Xiaoxia Zhao – (Guqin) Plum Blossom (Trad.)
Gary Joyner – (Didjeridoo + Clap sticks)
Episode 6
Gippsland Symphony Orchestra* – (Strings) Minuet in E Op13 (Boccerini), No17 in F (Hoftsetter), Eine Kleine Nachtmusik (Mozart)
* Louise Hesketh, Adelle McArdle, Lisa Blackman, Katrina Yalizis, Elizabeth Radcliff, Ann Roffe, Alexandra Orr plus Jayne Nielson; David Williams (Music Director and Conductor, GSO)
Ensemble – Jenny Candy (Voice), Julie Lockhart (Keyboard), Jayne Neilson (Violin) – Sovente il sole (Vivaldi), Caro mio ben (Giordani)
Episode 7
Ziling Xu – (Erhu) Tan Le (Chant of a leisure life) (Wenming Sun)
Darwin City Brass Band – Alexander's Ragtime Band (Berlin), Waltzing Matilda (Paterson)
Sale City Brass Band – Medley: It's a long way to Tipperary (Judge & Williams), Hello who's your lady friend (David, Lee & Fragson) and Take me back to Blighty (Mills, Godrey & Scott)
Julie Lockhart – (Keyboard) The Entertainer (Joplin)
Episode 8
Ziling Xu – (Erhu) River of Sorrow (Haihuai Huang)
Gary Joyner – (Didjeridoo + clap sticks)
Xiaoxia Zhao – (Guqin) Plum Blossom (Trad.)

Episode 11
Darwin City Brass Band – Wairoa
Ziling Xu – (Erhu) Moonlight on the Second Spring (Yanjun Hua – aka Ah Bing)
Droi Hoeksken (aka Ridoo) – (Didjeridoo) Djridoo
Xiaoxia Zhao – (Guqin) Guangling (Trad.)

Episode 12
Gary Joyner (Drums, Didjeridoo, Clap Sticks), Ziling Xu (Erhu), Cane Major (Dizi), Xiaoxia (Guqin). Rod McMillan (Compilation)
Episode 15
Wuxia Bai (Guqin) and Xi Chen (Dagu, Cha) Quan Yu Tian Xia (Wu Gui)

Further acknowledgements

Joe Morgan, Phil Tarl Denson & Jasper Bagg (for inspiration and guidance)
Jan Chamberlain (proof-listener)
Rui Sun (for finding the Chinese musicians)
Rod Moss (for sourcing Indigenous voices)
Bentley James (for finding a Yolgnu Matha speaker)
Chris Cooper (web design help)
Robert Lingham (animator)
Briagolong Community House (Shea Gilbert, Donna) (handling  donations)
Chung Wah Museum, Darwin (research help)
Library & Archives, Northern Territory (research help)
Rachael Lucas
plus a myriad of other supportive people … thanks to you all.